Safe-water marks, are used to mark the beginning of a channel or occasionally, to mark the centre of a channel.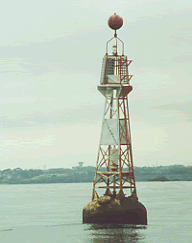 Safe water mark.
The River Thames is marked in one part by several Safe Water marks. Because the shipping keeps to the right of the buoys, this is a very effective means of separating the two streams of shipping.
Chart symbol

Shape
Safe water buoys are either spherical or pillar buoys, with a red ball as a topmark.
Colour
They will always be red and white with vertical stripes.
Light
Because they are the first buoys in a system, it is important that they are easy to close in to, in the dark, therefore the light patterns all have long periods when the white light is on.
Iso. Isophase or equal period on and off.
Oc. Occulting or on for long periods then flashing off.
LFl.10s. A long flash every 10 seconds.
MoA. Flashes the Morse code for the letter A, one short then a long flash.
The entrance to Port Fitzroy is indicated by a safe-water mark in position 45°40.80'N 05°48.38'W.
Sailtrain.co.uk is free to use, but if you feel you would like to contribute to the running and development costs you can donate via Paypal:
Additional Resources: