There are many other lights in use. Lightships, LANBYs (large navigational buoys), and light floats usually have powerful lights which will show over a considerable range. A light float is essentially a small lightship.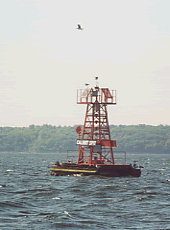 Light float.
As there is no need for lights to be manned now, lightships are gradually being replaced by other platforms that do not have the accommodation for a crew that was required in the past.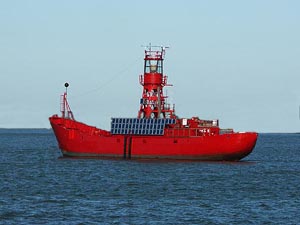 Lightship
The height and range of the lights are given beside the buoy or lightship; of course, the height is given above sea level!

There is a LANBY on Chart 3, the Lawrence buoy, used to mark the Traffic Separation Scheme (46°01.69'N 05°44.78'W).
Lightships usually have a large range. It is important to remember that the range quoted on the chart is a nominal range. In practice, the height of eye of the observer and the conditions of visibility are limiting factors in a small craft. They may also have a Racon or fog signals fitted.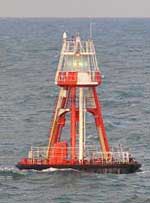 LANBY
Lightships and light floats will display not only a main light but also a small anchor light and anchor ball. Technically, they are vessels at anchor! This anchor light is an all round white light in the forepart of the vessel and may not be seen until you are quite close.
Sailtrain.co.uk is free to use, but if you feel you would like to contribute to the running and development costs you can donate via Paypal:
Additional Resources: