Distance learning or Theory Correspondence Courses for RYA Dayskipper, Yachtmaster Coastal or Offshore Navigation Courses
Most experienced instructors will tell you that the best way to take a theory course is in a classroom, with a good instructor and other pupils to interact with. There is no doubt that having someone on hand who can answer any questions or clarify a difficult point, is invaluable. Unfortunately, not everyone can afford the time to enroll in evening classes for 22 evenings or the 5 or 6 full days in a classroom needed for an intensive course. In addition to this, most courses run as evening classes are also held during the winter, it may not be convenient for you to wait until the start of the next course.
Whilst taking a theory course in the classroom may be the best option, the benefits are quickly lost if sessions are missed or you arrive late because of work pressures. If you have a very busy lifestyle, travel a lot or work unusual hours, the best approach may be the flexibility offered by taking an RYA navigation theory course by correspondence or distance learning.
With changes in technology, the quality of correspondence courses have improved greatly and contact with an instructor is greatly eased by the use of the internet. As a result, distance learning courses covering the RYA syllabus have become a viable option for many people, as they can be fitted in round a busy or irregular life style.
Before enrolling in a navigation correspondence course you should be realistic about the amount of time you will be able to find to study, ideally you should be able to set aside a regular period of time when you can concentrate on studying, if you are not able to do this, it can be difficult to commit to completing the course as you do not have anyone to chase you to complete work schedules. Self discipline is essential.
Practical course preparation
The full Day Skipper and Yachtmaster Coastal courses both have a theory and practical element. Those students who turn up for practical courses, and have not taken the relevant theory training already always struggle with those aspects of the course that are covered in the theory course. To get the most out of your practical course, if you can not find the time to commit to attending a full classroom course, you are strongly advised to take a correspondence course first.
20% discount on the cost of a RYA Day Skipper or Coastal Skipper / Yachtmaster Offshore theory course: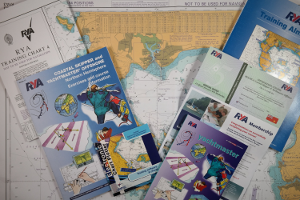 Through our partnership with Kipper Sailing, users of the Sailtrain.co.uk website are eligible for a discount of 20% on the cost of a correspondence course booked with the use of our special code. To get your discount, enter: Sailtrain as the discount code on the booking form when you purchase your course on Kipper Sailing's website.
John Corden who runs Kipper sailing is a very experienced sailor and instructor who offers the RYA Day Skipper and Coastal Skipper / Yachtmaster Offshore theory courses by correspondence. His very well planned courses will give you all the knowledge you need to pass the theory exams and prepare you to take the practical courses and if you find any challenges he has the experience and knowledge to help you through them.
Sailtrain.co.uk is free to use, but if you feel you would like to contribute to the running and development costs you can donate via Paypal:
Additional Resources: