Yacht Stability
Weight Distribution
Placing heavy weights low in the hull improves stability by lowering the CG.
For this reason, fuel, water and heavy equipment should be stored as low as possible in the hull of the vessel.
Raising the CG by fitting roller-furling gear, radar and aerials up the mast of a yacht reduces stability. Because of the length of the lever, a small increase in weight at the top of the mast can have a large effect.
Before fitting an in-mast furling mainsail system to a sailing vessel, consider how heavy the main sail is to lift, all that weight and more will be spread up the mast! The effect is to reduce the angle of vanishing stability.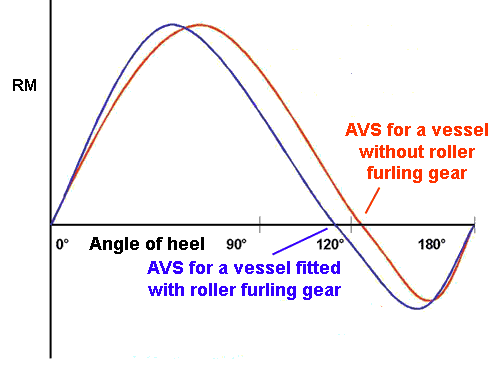 From the diagram above it can be seen that the extra weight of roller furling equipment has reduced the angle of vanishing stability for the vessel. Essentially, it will be more likely to invert from a lower angle of heel than a vessel of the same type but with out roller furling equipment.
In strong winds, when a roller main or headsail is fully or partially furled away, there is a considerable amount of weight spread up the height of the mast. On a vessel with conventional reefing or in-boom roller reefing, that weight is stored much lower in the vessel, thus lowering the centre of gravity and reducing the angle of vanishing stability.
Sailtrain.co.uk is free to use, but if you feel you would like to contribute to the running and development costs you can donate via Paypal:
Additional Resources: